What is Electrostatic electret air filter?
What is Electrostatic electret air filter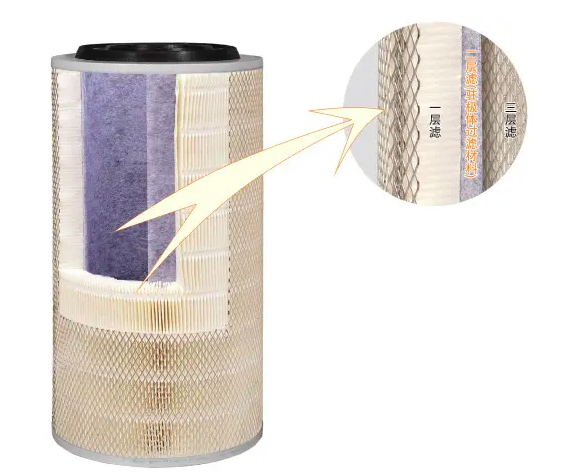 Electrostatic electret air filter for dust collector
Electrostatic electret air filter material, which uses the electrostatic force of electric charge to trap dust particles, and is made of small strips of polypropylene film.
Electrostatic electret air filter material: referred to as electret, refers to those dielectric materials that can store space charge and dipole charge for a long time, that is, in terms of time span, their charge decay time constant is longer than the period formed by electret. many. The electret charge can be a real charge (or space charge), a dipole charge, or both. Electret air filter material uses the electrostatic force of electric charge to capture dust particles.

In recent years, the development of polymer chemical fiber production technology has enabled the production of HEPA and ULPA filters with electret fibers; materials used as electret air filters require excellent dielectric properties, such as high bulk resistance and surface resistance , high dielectric breakdown strength, low hygroscopicity and air permeability, etc. Such materials are mainly organic electret materials based on polymers, such as non-polar materials: polypropylene, PTFE, hexafluoroethylene/polytetrafluoroethylene copolymer, etc.; polar materials or weak polar materials Material: Teflon, polypropylene (blended) and polyester, etc.

Synthetic fiber filter material
Electret electrostatic synthetic fiber filter material is to electrostatically charge polypropylene fibers in the melt-blown manufacturing process to make them electrostatic electret melt-blown non-woven fabrics (filter paper), with a fiber diameter of 2-5 μm. This filter material not only utilizes the filtering mechanism of traditional air filter materials, but also utilizes the Coulomb force of charged fibers to capture particles, so the efficiency is increased and the resistance is decreased. At present, this filter material is used in the 3M surgical masks (N95, N97, N99) that have the function of preventing viruses (including SARS virus) in the world, and the anti-SARS air filter launched in the United States in April 2003 also uses this filter material Material.
Because this filter material has high efficiency, low resistance and low price, this material is used in air filters for general air conditioning and ventilation. When the wind speed on the windward side is 0.5m/s, the dust filtration efficiency of 0.5μm is obtained. It can reach more than 95%, and the air resistance is only 40Pa, which is incomparable to the traditional cabinet air conditioner unit air filter (usually nylon mesh). This air filter has been used in large shopping malls, supermarkets, and hospital air conditioning systems for nearly 10 years, and has been applied to homes, such as Fairway air purifiers, which have achieved good air purification effects.
The production process has been comprehensively improved. At present, it has been able to produce electret electrostatic filter materials with a sodium flame method efficiency of 99.9999%. At the same time, it also solves the shortcomings of poor uniformity and low strength of this filter material. Air filters provide an ideal filter material. The commercialization of electret electrostatic synthetic fiber filter material has largely solved the contradiction between air filter efficiency and resistance.